I think most of us would agree that life is full of choices? Sometimes we think of these choices as good things: "Should I have a steak, or the tuna for dinner? Should we go to resort A or B for our holiday." Other times, the choices are can seem to be less positive: "Can we afford to replace the kitchen cabinets, or do we need a new furnace? Is it time for a new car, or should we just fix this one up?"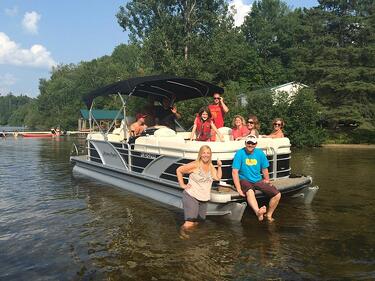 Where does the decision to go boating, or buy a new boat fit into this picture. You are right to question that; boating is not a necessity. However, We are doing everything we can to make it somewhere in between those two extremes of good choices and unpleasant ones. One way we do this, is through programs like the Great Boat Holiday, AIR MILES®, and the Len's Cove Assurance Plan.
How does taking a "Holiday from Boat Ownership" align with Len's Cove's "why" of: "We believe that boating should bring you happiness, joy, and peace of mind. It should move you closer to family, friends, and/or nature, and should be an escape from life's stresses; where your time is truly yours.........just happen to sell amazing boats, and provide incredible boating services on Big Rideau." (For the full version see this link here).
A lot actually. I wrote a blog a couple months ago about the benefits (and there are many) of shopping for boats in the fall and winter. Some of them include:
Buying (or at least committing to) a boat in the fall or winter saves you money by giving you the best price. You have the choice to save money on new boat buying by doing it now.
Saves you money by crediting back your storage and allowing you to suspend your boat insurance.
Give you the highest trade value possible. Your boat will never be worth more than it is today with us being able to sell to winter, boat show, and sping buyers.
Maximizes your bonus AIR MILES® which brings you closer to a real holiday or something fun.
Gives you more control and more time to make the right choice for you. Spring in a marina is busy (that is an understatement). Our number one priority is taking care of great people who stayed with us that winter and who committed to a new or used boat over the winter. Don't you want to be at the front of the queue with them?
Allows you the most choices on a used boat (highest inventory) or new boats (higher inventory levels and the only time you can safely order a custom one for spring delivery and expect it to arrive for your spring).
Some of you may be nervous about buying a boat in the off season when you can't really try it. We understand, and it is our job to make sure you get the right one. We also include a full sea-trial and demo in the spring and out our "money where our mouth is" with the Len's Cove Assurance Plan.
See, we try to maximize your boating value by reducing your prices and getting more for your hard earned boating dollars. Our goal is to allow you more choices, and to allow your boating to add to other fun things in life and not force you to choose between boating and something else you want to do. Read more about the benefits here on our Great Boat Holiday page. Life is short, summer is short, have fun in both!