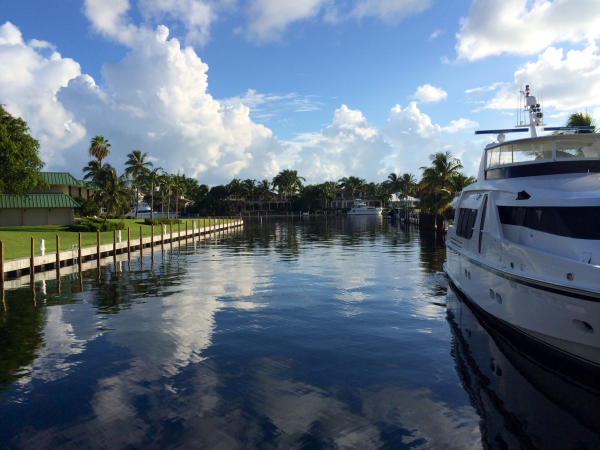 As Canadians, we complain about the weather constantly. For good reason mind you; our winters are long, and cold. The springs feel great at first, and then we realize that they are too wet and are never really nice enough. The summer is gorgeous (usually), and we feel it is oh so short as it draws to a close. The fall is the hidden secret, September and early October are typically much nicer than late April and May ever are.
So what do you ask does this have to do worth Florida and boating? One of the common things we hear in the marine business in Ontario is: "That is a lot of money to invest [in boating] for such a short season". You've heard that right? You may have even said it yourself. To be honest, I have even thought it to from time to time while hauling boats out at the end of every season, and I was thinking about it last August when I traveled to my first Chaparral Dealer meeting and wrote this post. So, while on my most recent trip to Florida (for the Chaparral 50th Anniversary Dealer Meeting), I decided to look into the commonly held belief that southern climate is better for owning a boat.
I was fortunate enough to spend my first night with really good life long friends at their beautiful home they recently purchased in Miami. They were only minutes from the airport, and have a gorgeous place on a canal that leads directly out onto Biscayne Bay. They both grew up vacationing on the Big Rideau Lake, and love cruising like I do. We were having a beer on their back yard terrace, looking over the canal and their boat in a lift....right at their house!! They have some of the best boating in the world at their finger tips 365 days a year. When I asked them how often they get out on the boat, I expected "all the time, frequently, daily" or some other jealousy inspiring answer. The response was shocking: "once or twice a month". When I asked how many hours they might put on the boat in the season the reply was "less than 20". I dug a little deeper, asking why. The answer was "too hot". The sun will bake you out on the water most days. Truth is, when they visit the Big Rideau every summer for a few weeks, they boat MORE there!
The next morning I travelled down to the a dealer meeting at the Ocean Reef Club on Key Largo. This is my second year there, and it is paradise; if you have a chance you should visit one day! It is an entire community with a huge marina, golf courses, condos, private homes, pools, clubs, fitness centre, spa, shops, and it even has it's own airfield! The boats are spectacular! Two minutes and you are on the ocean....your boat behind your home....minutes from great fishing and cruising, snorkelling, and the rest of the Keys at your door step.
The weather was incredible. Sun, heat, light breezes. Not including the Chaparrals and Robalos we were testing, while I was there for 2 and a half days, I only saw one single boat leave or enter the harbour. ONE! I talked to some people around the marina who seemed to own boats that were similar to the ones you and I use/own back at Len's Cove, and asked them how much they used their boats. The typical answer 25 to 50 hours a year. Pardon me? Remember that these people spend millions of dollars to buy these homes in paradise, and often have to buy their slips as well, and pay significant fees on top of that. Of course on top of that there is the price to buy the boat and maintain it. All for 25-50 hours a year.
To take one step deeper into the research, I went over to the on-site boat brokerage office and scrolled the listings board. There were some mega yachts there which made me drool - but I ignored those. I found a dozen or so listings for boats that we would find at home....34' Searay, 36' Carver, 24' Hurricane, a few centre consoles, some big bow riders, etc. all of them had the hours up on the listings. What did I discover? On average, they were about 10% higher than what we would commonly see in Eastern Ontario for the same boat. 10%.....for boats that can be used all year round.
Makes you think....do we really have it so bad? We have some of the cleanest, and most beautiful waters in the world, and to really some of the nicest yachting weather on the planet (for about 4 months of the year). There is a saying that I find very true: "The grass is always greener". The real key is to partner with a marina that understands how valuable your time is, and to take steps to maximize your boating value.
Make the best of our season. Boat, explore, relax, and enjoy the time we have. Life is truly short, and we are blessed to have affordable access to a great recreational past time in boating. See you out on the Big Rideau Lake.....before the snow flies!