The largest boat show in Canada started last Friday with the charity night and runs all the way till Sunday January 26th. This event ushers in the first signs of the next boating season around the corner. If you are already a boater, you likely are starting to get excited and are just itching to see what is new in the world of new boats, used boats, electronics, marinas, etc. Being potentially in the market for a new boat for 2020 may make you see the Toronto International Boat Show as a great source for learning and research....and you'd be right!
The Toronto Boat Show is a fun playground full of amazing boats, displays, deals on accessories, and very interesting seminars and shows. The "lake" also hosts wakeboarding demos, kayaking, canoeing, and fun animal tricks :-)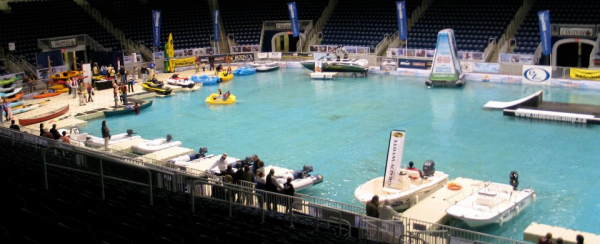 The boat show is also a very focused boat sales event. Whether you are in the market for pontoon boats, fishing boats, cruisers, or bowriders (and every other type imaginable), you may see what you are looking for there. If you boat in central or south western Ontario (Lake Erie, Georgian Bay, Lake Simcoe, Kawarthas, Muskokas, Toronto, etc.), you will also find some great dealers from your area. The season for buying is well underway, and if you thinking about a boat for 2020, then there will not be a time with more choice and lower prices until August/September, than the months of January and February. Check out this video here on the best times of year to buy a boat.
However, what you won't find if you are a Eastern Ontario boater (someone who plans to boat in Ottawa, Kingston, the Thousand Islands, the Rideau Lakes, the Ottawa River, etc.) is very much dealer representation from there. In Eastern Ontario there are many REALLY good boat dealers and marinas. Most of them focus on the Ottawa Boat Show (Feb. 20-23, 2020) which is at the EY Centre on Uplands drive. There are a small minority of dealers who travel to the Toronto Boat Show to display, and you will find that they are hard to find in the crowd.
Buying a boat from a local dealer who knows your waters and need, and is close enough to service you if required is essential! Boats of all types are not commodities. The purchase should, if done properly, should be the start of a great relationship. That is almost impossible, and often frustrating with a dealer who is 400kms and 5+hours away (or more). If you boat in the Ottawa / Kingston general area, find what you think you want at the show, then work with your local dealer to get that for you. They 100% will be able to match any pricing they have at the Toronto Boat show! You won't pay more, and your service will be MUCH better. So, if you boat in Eastern Ontario, shop and learn at the show, but don't buy there!
If you go, have fun...it's a blast. We intend to go, learn, and get fired up for the season. Click the image below for more boat buying videos and information. Have fun on the water!