By now you should feel confident that your new or new to you boat is working well and you are comfortable with the operation. What's next, read on? If you have not purchased your boat yet - check out the guide here for more helpful information.
What happens after the water test? As we arrive back at the marina, we'll review some useful docking techniques and tie up at the dock. Then we'll head back to the Marina office and complete any remaining paperwork. Any items noted on the water will be written down for follow-up.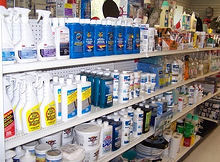 What if I want more boating gear? Our marine store is well stocked with all the boating accessories you need, and more! During the sea trial, we'll discuss proper boat care – for example, how to treat the canvas or upholstery, and engine maintenance. We have a great selection of products for every application. Now would be a good time to stock up on items to keep your boat looking its best. You receive a discount on that day as well!

If I am trailering my boat away, what do I need to prepare? Len's Cove will prepare the trailer licence paperwork necessary for you to tow your boat home. If a new trailer plate or a trip permit is required, this fee is included in your "admin/registration charges". Well before your sea trial, your vehicle's towing capacity should be checked to ensure it meets the requirements of your boat/trailer package. We can provide any boat/trailer specifications before your sea trial. Almost all trailers require a 2" ball unless otherwise specified. In our Mariner's Mart, we stock various trailer harness adapters to correctly wire your vehicle to the trailer. Please call us before your lake test to discuss any concerns.There is a complete blog post on this topic -click here for more info on safe trailering.
After the paperwork is completed, we'll help you connect your trailer and vehicle at the marina. Then, we'll meet you at the ramp and help to put it on its trailer at The Galley Restaurant (see map in other post). This is also a good time to discuss trailering, good launching/hauling habits, and any other questions.
Have any questions that weren't addressed in these posts? Please call or email us anytime.
We look forward to going boating with you soon!