You've researched, emailed, called, viewed, thought over, and purchased a boat. Buying a new or used boat in the Kingston,Ottawa, or other area is a great choice for you and your friends and family. Congratulations! Being out on the water is the best place to be. Are you ready for your ride on the Big Rideau Lake?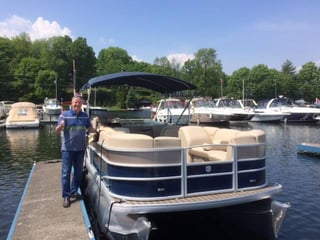 If your boat purchase was with another dealer, then please use this guide for your benefit/knowledge; we want to help you at anytime you need advice. You may want to also check out our other resources contained here:
If you bought from Len's Cove Marina, then thank you! Welcome to the family; we think you've made an excellent choice and it's time for us to really show you why.
Once you decide on the boat that is right for you, the next step is what we call a "Seatrial", or on the water lake test. Do not under ANY circumstances accept a boat without a FULL on the water demonstration.
This post is designed to answer some frequently-asked questions regarding your big day.This article will be useful whether you are buying new or used boats, pontoon boats, runabouts or bow riders, cruisers or wakeboard towboats.
Who is my Delivery Captain? There are a few members of the Len's Cove team who do water tests. Toby Spry, Fraser Hambleton, or Timmy McNamee are likely possibilities. Sometimes it is myself, Sean Horsfall, who is your Delivery Captain. I have worked at Len's Cove since I was 12 years old and have an unequaled passion for your boating enjoyment. We try to bring the of experience of a marina owner and a boater who spends all of our family free time on the water.

What time is my water test? On a typical day, we perform sea trials at 10:00 a.m., 1:30 p.m., and 3:00 p.m. Given our full schedule, we ask that you arrive at the marina 15 minutes before your arranged time. Because we normally have 3 per day, it is important to keep your scheduled time.

What should I wear for my sea trial? Even the nicest of sunny days can be a little chilly out on the water if it is spring. We suggest wearing soft-soled shoes and bring a light rain jacket if necessary. You can check our Portland weather forecast to see what attire is best on your day.

What documents should I bring to the sea trial? If we don't have it already, we'll need your driver's license in order to transfer the vessel license into your name. Also, if you are trading in your previous boat, please remember your vessel license and/or trailer license. The trailer license (green ownership) is critical and we can not complete your new boat delivery without it. If you have questions, please contact Margaret: margaret@lenscove.com or (613)272-2581


How does the final payment happen? If you are financing your boat, the paperwork may already be completed before your sea trial or will be done here at the marina on that date. If you are not financing, we request the balance of payment in the form of a bank draft. Thank you for your understanding. The balance may not be put on a credit card.

How many people can go out on the water? The purpose of the water test is to discuss all aspects of your boat and perform an on-water demonstration to ensure your satisfaction. We have found that most times the smaller the group the better. This encourages better one-on-one time to go over all the necessary topics and ask questions in an informal setting as there can be a lot to absorb in a short amount of time. You are more than welcome to go out again afterwards to enjoy the lake with a larger group of family & friends. Ultimately the choice is yours.

Next Check out the next blog post for what happens during a Seatrial...