You are now on our way to the marina for your lake test. What is next? If you bought a boat from Len's Cove, please keep reading. Did you read "prior to delivery first" - if not click here to go back. Still shopping for a new or used boat? You can also read on and you might also find this resource handy - click here for the boat buyers guide.
Where do I meet up with our captain? On the day of your sea lake test, we'll meet at the Marina in our marine storet. Your boat will be in the water at one of our docks (see below). If there is any paperwork to complete beforehand, we'll take care of that, then it's boating time! Here is a map of Portland and our marina. If you want a link for your phone/GPS we are at 1 Water St., Portland ON - click here.

How long is the water test? From arrival to departure, a sea trial typically takes between 1 and 1.5 hours. Our objective is to make sure you are completely satisfied with your boat. If this is your first purchase, perhaps you'll appreciate more time to visit our grounds, meet our staff, walk the docks, have lunch at The Galley Restaurant , and just take in more of the Big Rideau Lake. There's no rush! If you feel that you need additional instruction/coaching time on the water, discuss it with us and we will make sure that is arranged. We aren't happy till you are comfortable on the water.

What exactly do we do on the water test? At dockside, we'll familiarize you with all of the features, options and other notable items on your boat. Then, we'll set out on the water to discuss your boat's systems and go for a ride. The goal here is to make sure all major mechanical items are working within specification including steering, shifting, idle, getting on plane, controls, wide open throttle, etc. There will also be a talk on safe boating practices, wake management, proper engine break-in (if applicable), and helpful hints from our staff. Of course, if you have any questions ask away; we're here to help.

What is typically included in a "Water Package"? Unless specified in your purchase details, here is what is typically provided in a Len's Cove water package:
The required safety gear to make your boat 'legal' on the water. This includes but is not limited to a safety kit, paddle or anchor, fire extinguisher and other requirements already on the boat (ex. navigation lights). Some water package items can be upgraded at a nominal charge.

Because there could be many size and quantity requirements (and personal preferences) for PFDs, Len's Cove Marina supplies two (2) universal fit PFDs in every safety kit for new boats.

Since there are different usages for every boat (ex. boating during the day or night, boating on a small lake vs. a large lake), Len's Cove Marina does not supply flares in its water packages. These are available for order through our parts department.

The basic requirements for mooring your boat. The appropriate number of tie lines, fenders and fender lines are included (minimum 2 of each).

Other items to ensure enjoyment of your boat. The appropriate-sized starting battery and 'house' battery (if required) are provided, as well as a full tank of fuel charged to your purchase contract, license numbers and propeller.
Check out the next blog post for what happens after the Water Test...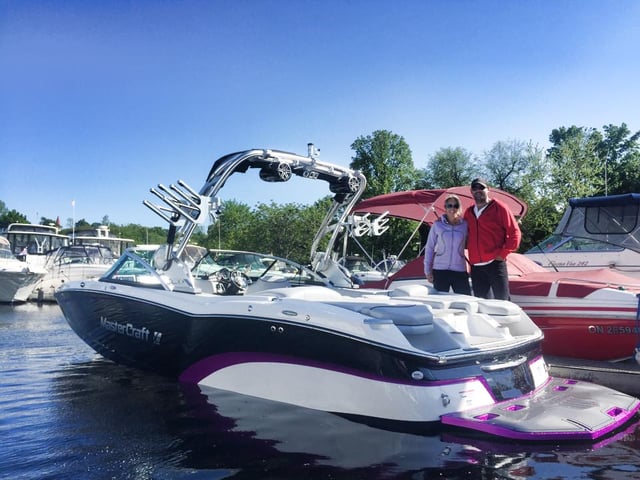 Sean Horsfall