You want your boating to be filled with towing tubes and cruising, not being towed by another boat, right? Let's be frank, you purchased a boat to help take away life's stresses and add great experiences. Your best proactive approach to keeping this a reality is to do some preventative maintenance. Here are two that are critical.
A common question the service department receives is: "Why do I need to change my water pump impeller?". In any marine engine, the water pump supplies all of the cooling water to the engine, keeping it from over heating. This can be done directly, in the case of an open cooled engine, or through the heat exchanger in a closed cooled engine. In either case, over time the vanes of the impeller can get worn, become hard, "take a shape", or in extreme cases, come apart. Worn out impellers cannot supply a consistent flow of cooling water to the engine, risking over heating. Mercury Marine, Volvo, and ILMOR all recommend changing the impeller every three seasons or 300 hours, whichever comes first. Regular maintenance of the water pump help keep your engine running at its peak performance and can save thousands of dollars in potential engine damage.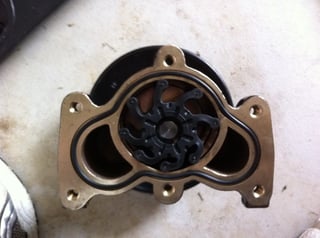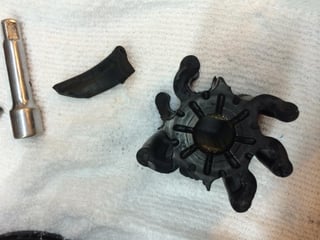 Another common question the service department gets is: "What are anodes and why do they need to be changed?" Anodes are self-sacrificing parts that help prevent corrosion of your boat's drive train below the waterline. They are made from metal that will dissolve in water faster than the metal parts of your drive or lower unit, which is why they are called self-sacrificing. Their whole purpose is to dissolve so that the important parts of your boat do not! Anodes need to be maintained (removed and cleaned, or changed) in order to keep working as designed. Mercury Marine and Volvo recommend they be changed every three years or when 50% of the anode has been consumed, whichever comes first. Proper maintenance can keep your outdrive or lower unit looking like new and save hundreds of dollars in potential damage from corrosion.
If you haven't had your water pump serviced in the last few years, or if you are unsure of the condition of your anodes on your stern drive or outboard engine, call or email Len's Cove Service Department and book an appointment before the boating season begins!