One of the most popular boats on the water is a pontoon boat. A pontoon boat is any aluminum tube hulled boat (double or triple pontoon) that is powered by an outboard engine for propulsion. There are a few rare models that use I/O (stern drive) engines. The common brands are Bennington, Sylvan, Tracker, Godfrey, Harris, Southland, Crest, Starcraft, Landau, Bentley, PrinceCraft, Sun Tracker, G3, Premier, Cypress Cay, Sunchaser, Avalon/Tahoe, Lowe, Manitiou.
Many different factors dictate pontoon boat price. They include length, engine choice, brand, model, trim level, and options. Add to that, a variety of dealer differences ( how they choose to price their boats), dealer market location and exchange rates (as most boats are either built in the USA, or are indirectly linked to US$ prices through suppliers), and there are 1000 different ways a pontoon boat can be priced.
There are some basic guidelines that might help you decide if pontoon boat ownership is for you and help you set a budget.There are some models in the 14-18' range, and they may be a little less money. Be cautious of them as they are really only ideal for very small bodies of water and can feel less stable. There are also pontoon boats that are built 28-32' with twin or even triple engines. They are also fairly rare on our waters. For the purposes of this review, we will stay in the most common and popular size range of 20 to 26 feet in length. Below are 6 boats that represent a standard boat, with proper canvas, and the recommended power (not base). The luxury level refers to the trim and appointments in the boat's construction and is on a scale of 1 (entry) to 5 (ultra luxury). These 6 boats are popular models in a range of sizes that serve as a starting price guide.
| | | | | | |
| --- | --- | --- | --- | --- | --- |
| Luxury Level | Length | Layout | # of Tubes | Engine | Price |
| | | | | | |
| 2 | 20 | L Lounge | 2 | 60 4-Stroke | $28,008 |
| 2 | 22 | Wet Bar | 3 | 115 4-Stroke | $40,975 |
| 2 | 24 | Dinette Table | 3 | 150 4-Stroke | $48,448 |
| 4 | 21 | L Lounge | 2 | 60 4-Stroke | $42,156 |
| 4 | 23 | U Lounge | 3 | 115 4-Stroke | $59,371 |
| 4 | 25 | U Lounge & Bar | 3 | 200 4-Stroke | $64,785 |
The above prices are based on a exchange rate of 1.28 and do not include Freight and PDI charges (1800 - 2400) or a trailer (3000-5000). As you can see, the purchase of a new pontoon boat can be very affordable. You also have a myriad of choices of brands and models that can bring you fun options, uses, layouts or luxury.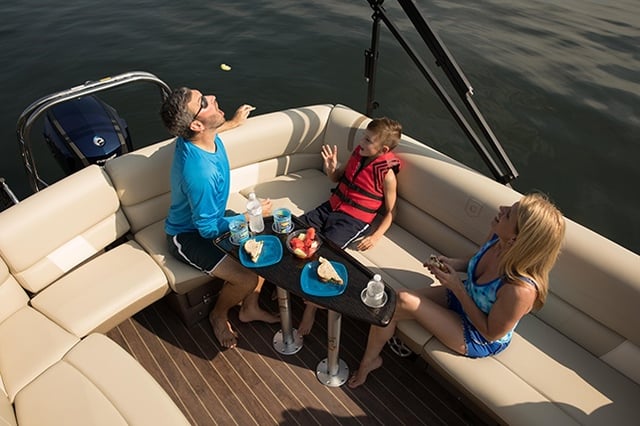 For this article, I am focusing on new pontoons. The used boats market for pontoons is extremely strong, and finding good used ones is hard and they hold their value extremely well. Why is that? Primarily it is because a well build pontoon that is taken care of can be used easily for 20 years or more. Families are using them for many seasons before selling or trading them in. That makes for a relatively low supply and as the pontoon boat market is the fastest growing boat segment, the demand keeps the prices high . Expect to see prices at 80-90% of new for 1-3 year old boats, 50-70% for 4-10 year old boats, and a remarkable 30-50% for 10-15 year old boats. Click here to see US Dollar used boat pricing on Nada.
If you find a good used pontoon, don't delay. Also, recognize the value in the new with choice, warranty, condition, fuel economy, and lower maintenance and repairs.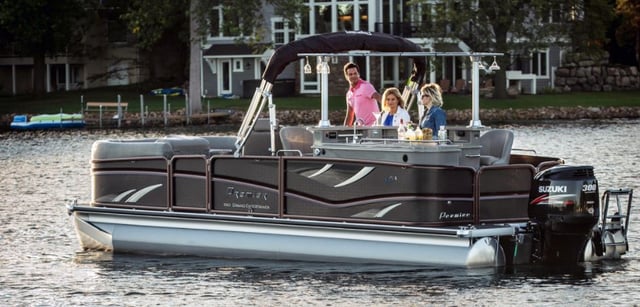 Remember that boat purchasing is more wisely looked at through the lens of cost ownership, vs. initial purchase price alone. Cost of ownership is defined simply as: initial purchase - what it is worth when you sell / how many years you own it + annual costs of fuel and upkeep.
I hope this few into the cost of purchasing a pontoon boat has been helpful and if you want more Information, please contact me directly.