A bowrider is a fibreglass hulled boat with an open bow and seating that is powered by either an outboard engine, or a sterndrive engine (inboard / outboard). Other common names for this type of boat are runabout or dayboat. The main brands are FourWinns, Cobalt, Searay, Monterey, Bryant, Chaparral, Tahoe, Bayliner, Stingray, Larson, Regal, Starcraft, Campion, Crownline, and Glastron.
There are many factors that go into boat pricing. They include length, engine choice, brand, model, trim level, and options. Add to that, a variety of dealer differences (how they choose to price their boats), dealer market location and exchange rates (as most boats are either built in the USA, or are indirectly linked to US$ prices through suppliers), and there are 1000 different ways a boat can be priced.
However, there are some basic guidelines that might help you decide if bowrider ownership is for you and help you set a budget for buying a boat. For the purposes of this review, we will stay in the most common and popular size range of 19 to 26 feet in length. The "Family Ready" version has standard features, base engine, trailer, and covers. The "Well Loaded" version include the same plus a wakeboard tower, upgraded colours, larger engine (in the Premium Level), and a number of popular next level options.
| | | | |
| --- | --- | --- | --- |
| Type | Length | Family Ready | Well Loaded |
| Entry Level | 19 | $39,731 | $44,858 |
| Entry Level | 21 | $44,649 | $49,862 |
| Entry Level | 23 | $51,024 | $54,713 |
| Premium Level | 22 | $66,614 | $78,659 |
| Premium Level | 24 | $97,407 | $111,968 |
| Premium Level | 26 | $112,130 | $126,762 |
The entry level are the value priced offereings from some boat builders and the manufacturers that just sell product in that category. The Premium Level are offered by only a few of the higher end brands.
As you can see, the purchase of a new one can be very affordable at the entry level. You also have a myriad of choices of brands and models that can bring you fun options, sizes, technology and luxury. Note that there are some options that are less expensive, and also more expensive. This chart represents where the good quality brands end up in these popular categories and sizes. The above pricing does not include freight, pre-delivery, or any admin/licensing fees.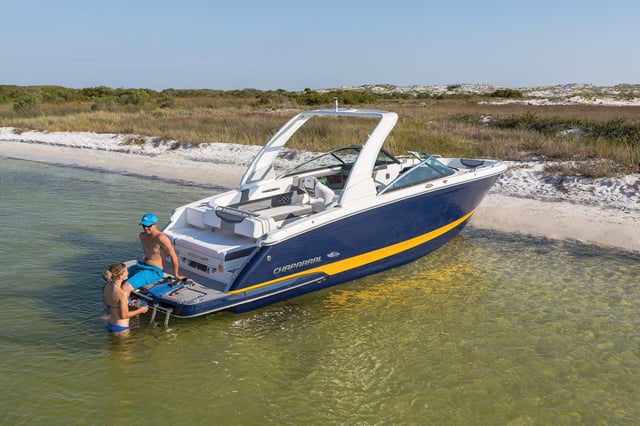 For this article, I am focusing on new boats. The used boats market is extremely strong, and finding good used ones is hard and they hold their value extremely well. Why is that? Primarily it is because a well build bowrider that is taken care of can be used easily for 10-20-30+ years. Families are using them for many seasons before selling or trading them in. Usually it takes a major shift in technology or sport popularity to signal the need for an upgrade. That makes for a relatively low supply and as new pricing continues to slowly creep up, the demand for used boats keeps the prices high. Expect to see prices at 80-90% of new for 1-3 year old boats, 60-70% for 4-10 year old boats, and a remarkable 30-60% for 10-15 year old boats! Click here to see US Dollar used boat pricing on Nada.
If you find a good used bowrider and want to risk not having warranty likely, don't delay as they get snapped up fast. Also, recognize the value in the new with choice, warranty, condition, fuel economy, and lower maintenance and repairs.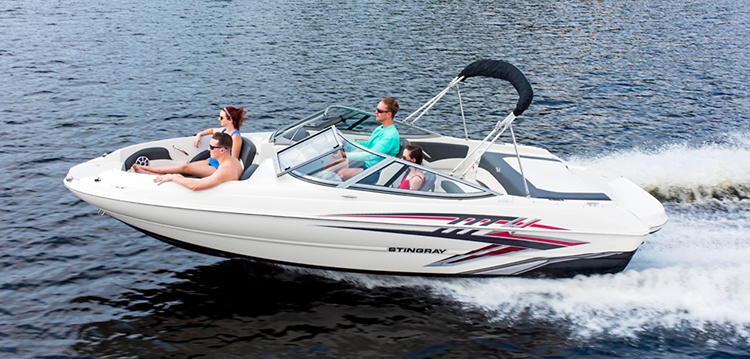 Remember that boat purchasing is more wisely looked at through the lens of cost ownership, vs. initial purchase price alone. Cost of ownership is defined simply as: initial purchase price, minus what it is worth when you sell it, divided by how many years you own it, plus annual costs of fuel and maintenance, and repairs/upkeep. Although used boats almost always have a lower cost of ownership, it can be amazingly similar to new boats and for that slight premium you get a ton of value, peace of mind and satisfaction.
I hope this few into the cost of purchasing a bowrider has been helpful and if you want more information, please contact us directly.