Boating with a pontoon boat just might be the most relaxing way to spend a day on the water! Since pontoon boats offer more space and more carrying capacity than any other boating segment, feel free to invite the whole family & all your friends.
Shopping for a pontoon boat can get a little overwhelming. So many brands, so many different floor plan layouts; it is hard to know where to begin. We'd like to offer some advice that will help to simplify your buying decision. This is a pontoon specific guide. For more generic new boat buying tips, see this bog post here. Whether you are shopping for a new pontoon boat, or a used pontoon boat, these guidelines should help. The most important question to answer is "why" you are buying a pontoon. Uncover that by going through this exercise.
Ask yourself several questions:
How will I use my new pontoon boat? The activities you know you will do and the ones you might do.

How many people will boat with us on a typical outing? Maximum number, typical, and how often for each.

How fast do we need to go? Think destinations and distances, weather factors, water sports.

Do we just like to cruise around the lake or river with friends, or will we need a faster boat for waterskiing or wakeboarding?

Will we be fishing from the boat? If so, would we prefer to cast from the bow of the boat or troll off the stern?

How about swimming? Would a change room be useful?

How size horsepower do we need? This is a question that can be discussed with the person helping you buy from the dealership.

Do we need a trailer, and is our vehicle properly suited to tow our boat?

Is our dock long enough to moor our new pontoon boat?
Once you have determined how the boat will typically be used, you are better prepared to make smart choices about a practical layout for your family's needs. Asking these questions will narrow the choices significantly.
Fishing is on the agenda. Seek out models with swivel fishing chairs and maybe a livewell. The die-hard fisherman may look at a model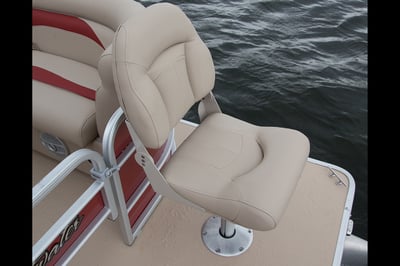 that supports fishing from all 4 corners. If inviting a couple of families out for the day is more your style, perhaps you should consider a pontoon boat with lots of couches. This will obviously increase the seating capacity, and also greatly improve the on board storage space under each couch.
Are the kids going swimming? We are going to need a ladder, or two. Do we want a portable one to hang over the side or should we look at a model that offers a rear entry gate with a permanent ladder behind the starboard pontoon? For many families with kids, the pontoon boat gets anchored and becomes their own private island! Whenever there are kids, boats and water, there will surely be watersports. A pontoon boat is a very capable platform for watersport activities. If the gang wants to go tubing or skiing, you might want to think about upping the horsepower a little bit.
After tubing and splashing around, somebody is going to want out of their wet bathing suit. A pop-up change room or 'privacy curtain' comes in handy. Change rooms also double as an excellent spot to stash a porta-pottie, just in case you need it too. Flexibility is ideal!
How big does this boat need to be? That's going to depend again on how many people you plan to entertain on a typical day. Other items to consider are:
If you plan on purchasing a trailer and you'd like to boat on many lakes, what is the towing capacity of your vehicle?

What is the size of your dock – i.e. will an 18-, 20- or 22-foot pontoon boat fit?

If you store the boat in your garage/shed/at the cottage, will this location dictate the size of your pontoon boat?
How big of an engine will we require? This question is always open for discussion, but 20 foot boats with light loads can work well with a 40 hp engine. We see most 20' pontoon boats with 40-90 hp FourStroke engines. 22'-24' models are best suited for 60-150 hp and up for use on bigger water. Mercury's 115 hp MPI 4 Stroke is by far our best selling engine in this segment. Top speeds of 25 to 35 mph are obtainable with this combination. As mentioned earlier, your intended use will dictate the horsepower required. Keep in mind that, since pontoon boats are in essence 'displacement hulls', a larger horsepower engine will not necessarily translate to higher speeds, but rather increased torque at higher rpms. This can be particularly important if you plan on having more people on board on a given summer day.
What about "triple" pontoons? For big loads, or high performance, triple tubes can be the way to go. There are some positives and negatives. If you go with triple pontoon construction, you are going to want to go with 115hp or larger. If you don't, the added weight and drag will negate the added benefit of the third tube. Remember you are adding complexity and cost to the boat and trailer.
How do you tell a quality brand from just a "run-of-the-mill" boat? We suggest that you look in all of the places the manufacturer doesn't expect you to look. Even the most value priced brands look plush and stylish, but stick your head up inside the console and check out the wiring harness. Are waterproof connectors used? How about the decking material? Is it true pressure treated decking or just dipped plywood? There is lots of carpet and vinyl on a pontoon boat. Are these products a high grade? Do they have an impressive warranty? Pontoon boats are very open and the soft goods get exposed to the elements. The quality of the vinyl is paramount. It is important that the components stand up to the elements or your beautiful new boat won't stay beautiful as long as you thought. Like most major purchases in life, the lowest price does not guarantee the best value. If you're not sure, ask us plenty of questions.

Pontoons are relaxing, social and versatile. While not for everyone, they just might be right for you and your family.