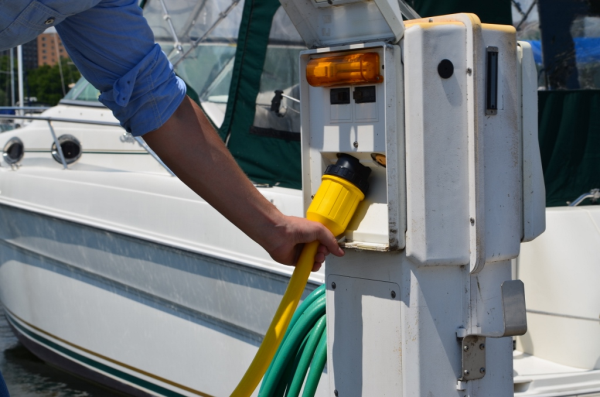 Marina life is social, fun, and should be as close to care-free as possible. Here on the Big Rideau Lake we can honestly say that there are more boats than people in permanent residence. That means there are a multitude of small details that can be missed.
At most marinas, there are dock staff, technicians, etc. walking the docks on a regular basis and should be checking on your boat. However, as a boat owner, you likely see things in a different light.
How can we as a community help each other? Here are five simple things that you can do/watch for that will help your fellow boaters, and if they do the same, may help you:
Keep an eye on lines and fenders. Most lakes and rivers rise in the spring and drop as the summer goes on - sometimes dramatically or over night. If you see a boat that looks loose or too tight, consider adjusting the lines and fenders for them. If you don't feel comfortable doing so, then let a dock staff know so we can.

Look for loose or unconnected power cords. A set of dead batteries, and a fridge/freezer full of spoiled food can really make a terrible start to a weekend or holiday. Every year once or twice a boat gets unplugged by mistake. Sometimes a boat owner can forget to attach the shore power cord all together. By mistake, staff or other boaters can knock or unplug the wrong boat. Sometimes it is just a little loose in the socket and the power supply is interrupted. Keep an eye out and tighten any loose looking plugs or report it to marina staff. If the boat you think has become unplugged is a Carver or a Prowler, please alert someone right away. These brands have the tendency to reset the main breaker inside the boat and could still be without 110V power even if re-plugged in.

Report or remove debris from the lake. This one is usually a spring thing as high water will lift branches off the shore and become very dangerous targets for you and other boaters. Don't just ignore a floating log. You could be saving someone a huge repair bill, or even a life.

Help people into and out of their slip. Having a helping hand is just a nice feeling when your are coming or going from your slip. Remember to pull on a line only if asked, and don't push too hard. A captain may have a certain routine and you don't want to change that.

Report issues to marina staff that you notice. Burnt out lightbulbs, loose boards, low branches, etc. are easiest to repair/address if we know about them. The sooner you shed light on an issue, the sooner it can be rectified.
There are likely other things we can do. What would you like staff and fellow boats to do to make your boating life better?