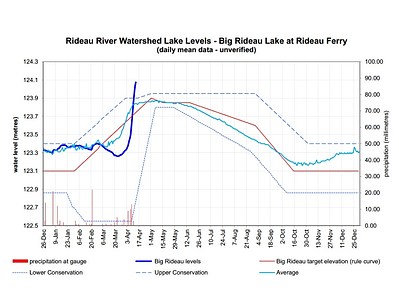 Mother Nature is providing challenges; as I am sure you are aware. It maybe affecting your homes, basements, lawns, etc. We hope that you are not dramatically impacted.
She is messing with launch this year. As of today (April 15th) we still have a large amount of ice on the lake, and the water level is well above the docks. In the history of Len's Cove, neither Sean or Doug have ever seen this much water in the Big Rideau Lake. As the chart above shows, the spike in levels came on well faster and higher than anyone anticipated. The same issues hold true around the province.
We are unable to start launching and docking at this time and are not certain about when we will be able to start. Our commitment to you is to prep your boat correctly when it is safe to do so.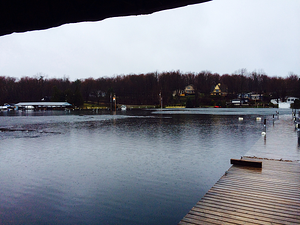 We expect that we will have a backlog of launches to do and are asking you, our valued customers to be patient with us as we will do our very best to get every one of you going in a timely manner. We are asking that all customers who will not be needing/using their boats at their requested launch date please let us know. We understand that all of you want your boats as soon as possible and we feel the same way.
If you have any changes to make to your launch request or have any concerns, please feel free to email me or call me at the Marina Monday to Friday 7am to 4pm. wendy@lenscove.com or 613-272-2581
A great summer lies ahead. We appreciate your understanding in this matter.