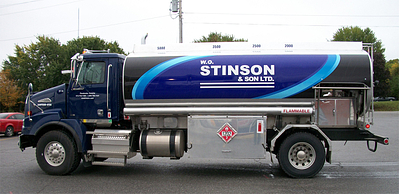 Your boating is our priority. Saving you money when you fuel up your boat means you spend less to get out more and enjoy the Big Rideau Lake, the Rideau Canal, and waterways beyond.
Because helping you write your summer story in a positive way is so important, we identified a need to reduce your cost of fuel for 2014. We started to search for a supplier that was not only less expensive, but also had the same values as Len's Cove, and could provide the same level of service and quality fuel (or better). It is important for your boats to have a premium fuel, without ethanol added in it. The long term cost of ownership and enjoyment of your boat can be negatively impacted by low quality "Regular" gas.
Introducing: Stinson Fuels at Len's Cove! If you are from the Ottawa area, you will likely know the name and have seen a few stations and trucks on the road. Stinson is a third generation family business, just like Len's Cove. They strive for service excellence at their core, and the fact that the current owners are avid boaters with great boat brands, just completes the relationship.
"Now owned and operated by the third-generation of Stinson's, Dave and Eric, W.O. Stinson & Son offers a complete line of automotive, commercial, industrial and agricultural motor oil and lubricants, as well as a complete line of petroleum and propane products, in addition to the home comfort services on which the company was founded. But having a range of products and services that few other independents can match is only one half of the story. W.O. Stinson prides itself on superior customer service that manifests in several ways".
How will this change impact your boating? Based on last year's supplier, and the comparison of prices, we anticipate a price reduction to you in the neighborhood of a huge 7 cents per litre!! Add that up all season long, and you should see real dollars in your pocket.
To celebrate, we are giving away free fuel! Check out our FaceBook page now for details!