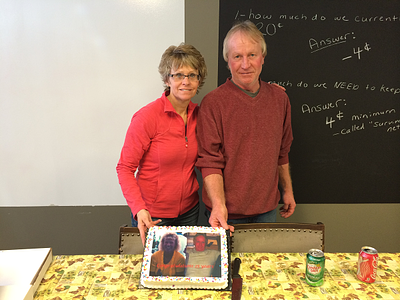 25 years, is that a long time? It is when you talk about the loyalty and service of fantastic employees. Gary Brash and Brenda Baker started at Len's Cove Marina 25 years ago this March. We took some time to celebrate that accomplishment, thank them for their dedication, and have a little fun.
Brenda started work in the yard, caring for boats, and helping with the cabins. After a few years it was clear that she had more to offer as she demonstrated such care for your boats and wanted to challenge herself. Since that time, she has trained extensively to be an exceptional canvas and upholstery technician here in your marina.
Gary came to as a technician, and that is where he is today. Gary is most noted for his absolute and meticulous nature, perfectionism, cleanliness, and attention to detail. He finishes what he starts, never ceasing to make your boat right.
There are many funny and embarrassing stories we could share about both of them. However, we will keep them for future torture possibilities. ;-)
We are lucky to have a team of great human beings here at Len's Cove. Gary and Brenda are just two examples of why we are so lucky to have consistent, quality, and service oriented staff who stay with us for the long haul. They do what they do for you. Without great customers, there is not much point.
We want to thank-you Gary and Brenda for 25 years at Len's Cove Marina. Hoping for another 25 might be pushing it, but we are counting on many more!