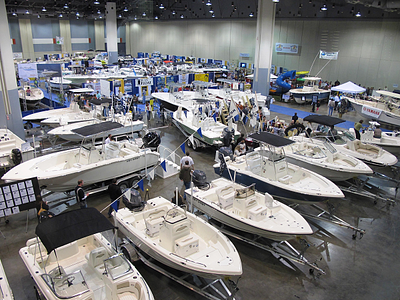 Selecting a good boat dealer may not be as important as choosing a spouse or a life partner, yet the choice can have some fairly dramatic impacts on how much you enjoy your new boat. What is written here is brief and simple, yet critical. Boats are NOT commodities, and the buying and ownership experience can vary tremendously from dealer to dealer, even with the same boat brand.
Dealer selection is a crucial and often undervalued part of the experience of a boat show. If you are going out at your local show, or even here in Ottawa at the Ottawa Boat and Sportsman Show, keep reading.
The dealer should be organized. Consider a dealer's booth as an extension of their dealership. It should be well structured, clean, inviting, and staffed properly. If you don't feel comfortable in the booth, you likely won't at their marine store either.
They should be inquisitive! A great dealer is easy to recognize as they ask questions, listen, and try to learn more about you. They will also be concerned firstly about advising you to make good decisions with the information you already have and need. If they move right away to price….move on!
They should "walk the walk"! Avoid dealers or sales staff who do not boat! There are lots of them on the boat show floor who "fill in for the show".
They should have the answers or know how to get them. Know what to ask a dealer. While boat shopping it is important to ask the dealer about any promotions, rebates, warranties, delivery, service, training, and insurance. If you require financing do not hesitate to ask if any special offers are available. Purchasing a boat should be taken seriously for your best experience and satisfaction, so do not be afraid to grill them! Drill deeper and ask things like:
"Are you a Marine Industry Certified Dealership or a Five Star MICD?"
"Do you have an on the water facility?"
"Are you a member of the "Boating Ontario Dealers"
"May I see your code of ethics?"
"Do you keep the same technicians hired all year round?"
"How long have you been in business?"
"Can I meet the owner today?"
They should be close to your main boating area if possible. Although selecting a sub-standard dealer just because they are "on my lake", may not be wise. It is also foley to chase a better deal (initial price) at a boat dealer that is 4 hours away from where you plan on using your boat. A great marina facility will heavily invest in training, equipment, processes, and facilities. Invest a little back in them by choosing to buy there. That investment will pay off in years ahead as they will be there for you and have the resources you need to enjoying your boating.
You will learn a lot by being nosy! Some will view you as a transaction and should be avoided. The professional operations will shine through and be a partner with you for your boating enjoyment.