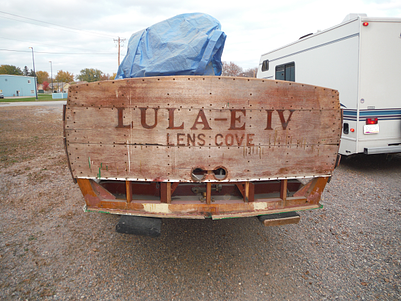 One of the greatest things about writing a blog is that it allows us to share, and help you and the boating community connect. It also increases our "online visibility". So much so, that a restorer of the wooden launch "Lula -E" found us through a blog we had posted about memories on the Big Rideau Lake. This is what his post asked:
"I recently purchased a 1948 Chris Craft Sportsman in rough condition. On her transom the name reads "Lulu-E the fourth, Lens Cove.
If anyone knows anything about her history, I would love to hear from you. My phone is XXX-XXX-XXXX or e-mail is blank@msn.com Thanks"
Lula- IV reminded us of a great story about the boat and its history. Thankfully, Doug Horsfall was able to provide the new owner a snap shot of the boats life here at Lens Cove.
This is Doug's story:
"The boat originally belonged to a customer from New Jersey who owned the cottage Peace-A- Plenty. When the cottage was sold the boat was sold and resided in Brockville. The owner gave the boat to his son and had Len's Cove deliver it to the St. Lawrence River near Waddington, New York, east of Ogdensburg. The boat originally had a 6 cylinder Chris Craft and Len's Cove replaced it with a V8 Chrysler.The Lula E-IV had a full hardtop which extended back to just in front of the engine box. The windshield hinged up and the side windows slid open to provide ventilation. When it was repowered the floor shifter was removed as the new engine had a Velvet Drive transmission operated by a contemporary Morse control. A gyroscopic compass was installed to improve navigation for the foggy trips across Big Rideau Lake. This was in the mid 60's before the days of GPS."
Recently, the boat was bought along with three others from Mahogagny Bay, a boat restoration company in Mound, Minnesota. Lula-IV is now in rough condition but still has most of the essentials intact. The boat is missing a motor, driveline and is ready for some new sides, tops and mechanicals. Her new owner whas plans to restore the boat.
We are pleased to continue to be a part of this boats history! If you have any stories to share please pass them on we would love to hear from you. Or if you know anything about this boats history we would also love to fill in the missing years.